Tech
5 AI Tools better then ChatGPT
Since OpenAI launched ChatGPT internet has gone wild over the AI tools, some of them were groundbreaking like Midjourney and some were Billion Dollars of failure like Google Bard.
Ai tools have made roadmaps for developers and people working in their other relative fields like art and design and content creation, there are a number of AI tools for these different purposes.
Can you really make money with ChatGPT, read the full article here.
So if you are a working professional and are not using these tools you are wasting your time and missing the big opportunities ahead.
5 Tools Better then ChatGPT
RUNWAYML
The runway is a perfect AI tool for artists and content creators, with Runway users can generate realistic images just by describing them, manipulating pictures, and also transforming them. It has an Ai magic tool section that allows you to perform different actions.
It offers tools like the text to images, Text color Grade, Erase and replace Super-Slow motion
Here are the features of Runway AI Magic tools
Generate Videos: This tool allows you to turn any image, video Clip, or text prompt into a compelling piece of film.
Generate Images: This tool allows you to generate images only by your word description.
Infinitely expand images: This tool allows you to expand any images endlessly with the prompt.
Reimagine any Image: Instantly remix the style and composition of any image.
Train Custom Model: Train your own custom AI model on specific subjects and styles.
Erase Everything from the Video: Remove anyone or anything from any video with a simple brush stroke.
Allow Mo any video: Turn any video into super slow-mo footage. Regardless of frame rate.
Make Image Move: String together a sequence of images into an animated video.
Remove any background: Instantly remove the background from any video. Just click. Cut. Done.
ANIMAKER
Animaker is an AI tool that allows you to create animated videos and generate subtitles. This tool uses pre-build library and templates to create animations quickly, using this tool users can create high-quality animation content without any technical knowledge.
Features offered by Animaker:
Video Making, GIFs and short video making, Live Video editing, 100 Million+ stock Assets, tons of free music and soundtracks.
It allows you to record your own voice and instantly use it in your video.
Start creating your animated video now with Animake.
Chatsonic is another writing tool that allows you to use the powers of GPT-4 and generate unique articles and other posts like tweets, captions, and the perfect tool for copywriting.
Chatsonic provides you with many tools and features like Article Write, Product Description, Article Summarizer, Text Expander, Paraphrasing tool, Surf SEO Integration ( USed to rank articles and blog posts in Google Search engine also known as SEO optimized content),
Create high-performing Facebook and Google Ads, Create high-converting landing Pages, and generate catchy blog and article titles.
Murf is an AI voice generator using this tool you can generate voices for podcasts, videos, and all professional presentations.
If you are a youtube and wanted to start a channel in the regional language then this tool is very useful for you, you simply needed to shoot a video in your regional language and then upload the subtitle of your video Murf will convert your text to speech in any language and then you can edit your video.
Features offered by MURF:
Voice-Over Videos: you can add well-timed AI voiceovers to your videos and make them more engaging.
Voice Editing: You can create an AI voice clone that delivers life-like diction and the full spectrum of human emotions.
Voice Changer: You can upload raw home recording voice and Murf will convert it into professional voice over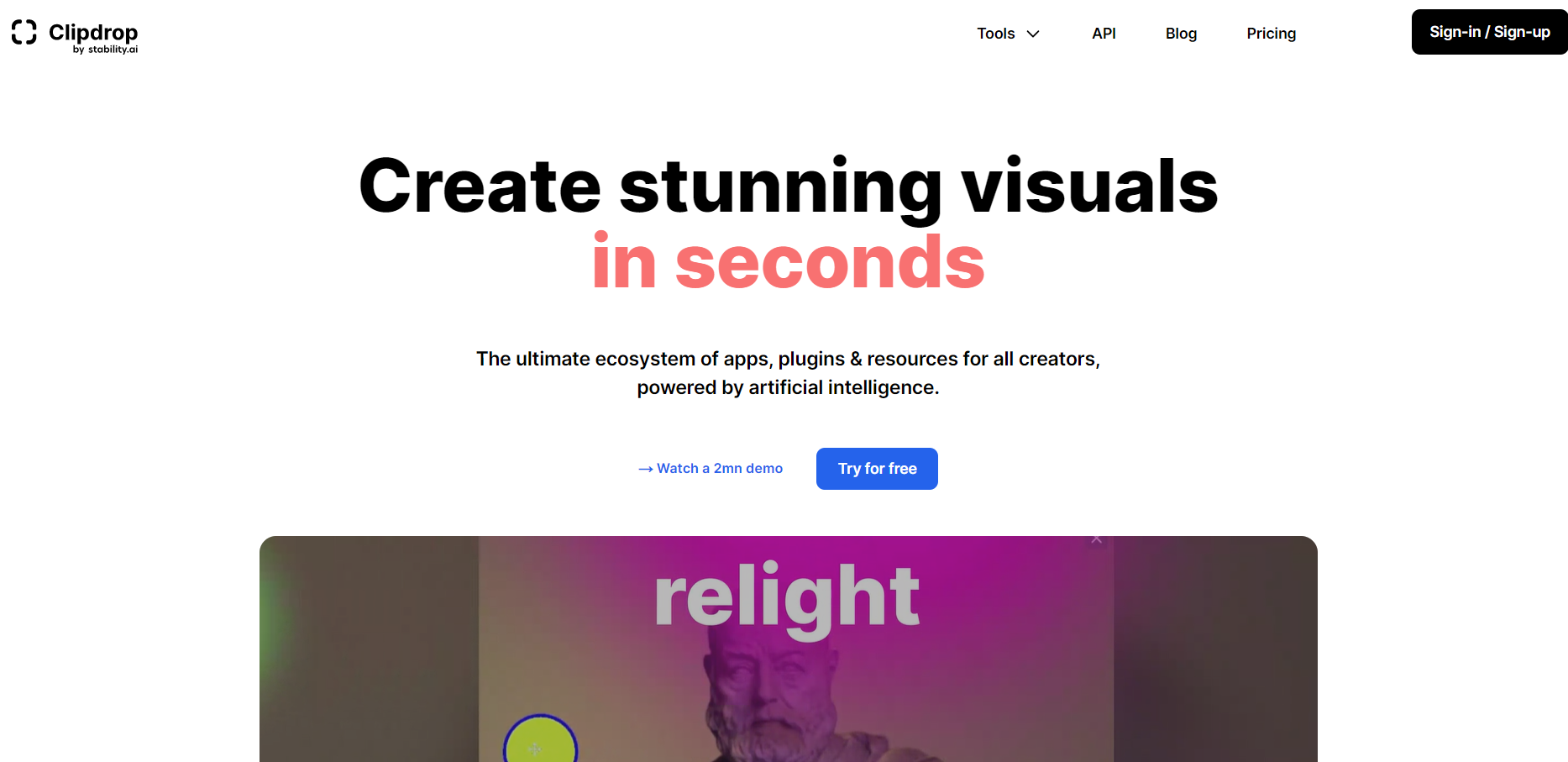 Clipdrop is an AI editing tool that allows you to edit photos using different algorithms. To edit pictures using Clipdrop you simply need to upload photos to the Clipdrop website and then use different algorithms to edit that photos professionally.
Here are some tools that Clipdrop offers you
Cleanup: Remove Objects, People, text, and deflects from your picture.
Remove Background: Extract the main subject from the picture with incredible accuracy.
Relight: Relight your image with beautiful lights.
Image Upscaler: Upscale your Image by 2x, 3x, or 4x in seconds.
Stable Diffusion: Using this tool you can create high-resolution realistic images with AI.