Anime
Best Isekai anime to watch in 2023 | Isekai, slice of life
Today we are going to talk about the best isekai anime that you can watch in 2023 some of them are peace of work and their animation on another level, so let's get started.
Best Isekai Anime
After getting stabbed by a stranger on the streets of Tokyo, the protagonist was reincarnated as a slime and was granted some superpowers by the voice of the universe, where the started exploring his new world and easily overpowered everyone and gained a number of new skills.
He established his own country in the great forest of Jura "Jura Tempest Federation" and very soon people and monsters from all over the place started to join him and many cams were under him to seek protection.
This anime was reworded as the best anime for the year 2020. Now it has released two seasons with a total of 48 episodes and a movie Scarlet Bond. they also have announced the new season.
Read more about "that time I got reincarnated as a slime" here.
Eminence in the shadow is the story of a boy who wanted to be a hero and after getting hit by a truck he was in another world with some serious superpowers.
He created his own organization and start collecting subordinates with powers and named their organization "Shadow Garden". The protagonist of the story is a complete psycho and has terrifying powers and can defeat his enemies in the blink of an eye.
They are hunting for an organization named diablo, and the people who are worshipping and trying to revive the devil.
Read more about Eminence in the Shadow here.
This is the story of an introverted gamer who was summoned to a gaming world as a devil and now he is living with his subordinates who summoned him in the game.
Diablo is pretty powerful for these people so he doesn't use much magic to fight them otherwise he might obliterate them. currently, he is working with his subordinates to clear dungeons and make some money for a living.
Story of amazing and also animation is great for the anime, till now anime has two seasons and is still not completed.
Overlord anime follows the story of a video game addict who is trapped inside the video game after its server sat down. the protagonist was given the character of the most powerful character in the anime, he tried to navigate and survive in the game and tries to find out the other character trapped in the game.
The series is full of powers and magics, and various different races usually what a normal game has, and also different types of beasts which have their own agenda.
This anime is one of the most popular isekai anime that has several seasons.
Sword art online is also a type of anime that follows the story of a video game, the story follows a player name Kazuto kirigami who is trapped inside the game along with thousands of other players, usually players used to control their characters with their avatars using devices called NerveGear.
They have to clear the given tasks in the game but the twist is that if they die in the game they die in the real life also.
Sword Art Online also has released various seasons and has received good critics from the audience. serious is the perfect blend of technology, romance, and adventure.
Rising of the shield hero is the story of four friends who were summoned to a world as four cardinal heroes to save the world from catastrophe. Each of them has a weapon and they can't use another weapon than that.
Unfortunately, the shield hero was exiled from the kingdom because the king didn't like him, and also his other three friends abandoned him.
The shield hero was left alone but he didn't lose hope and started doing many odd businesses to make money and gain experience. He also has made quite a few companions.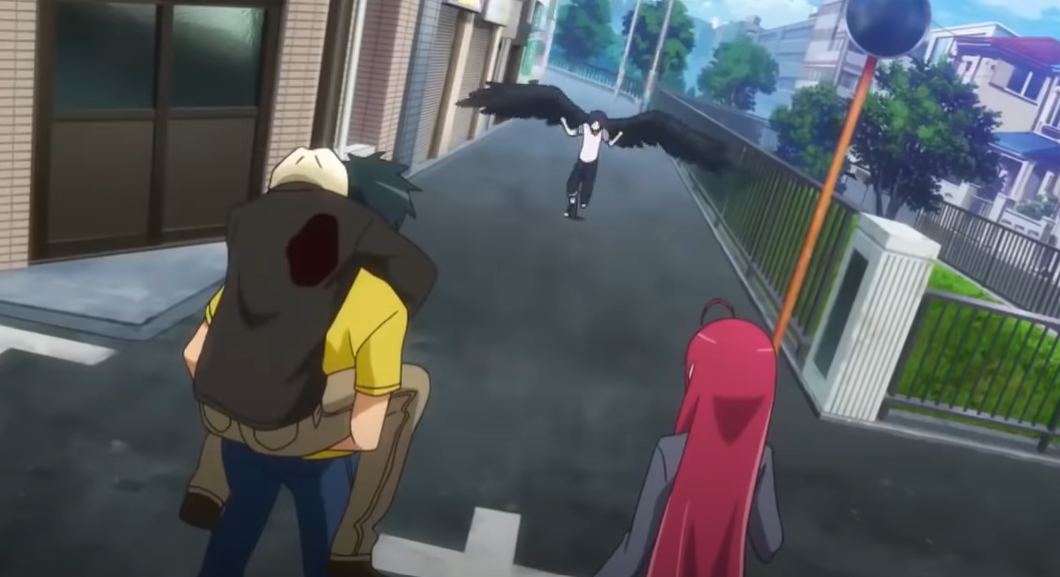 The devil is a part-timer anime follows the story of the devil who is the ruler of the demon realm defeated by a hero named Emilia and escapes to modern-day of Tokyo. where is was forced to work a part-time in food restaurant.
The serious shows us how the devil adapt himself to the modern world with the humans he is also assisted by his royal guards who followed him to the human world. The hero who defeated the devil in the demon realm has also been teleported to the human world and she is determined to eliminate the demon for good.
Till now series has only one season but its worth watching, its full of comedy suspense and challenges.
reincarnated as a sword
Reincarnated as a sword anime is the story of a person who was hit by a car and died in the afterlife he is now reincarnated as a most powerful sword, he has various abilities and can use themself without any master, in the start he encounters various powerful monsters and kill them and take their skills.
Till he got his wielder he was doing everything alone, after getting a master he was very happy and they start working together. His master is a black cat, she is now an adventurer who likes to explore the dungeon with his master's sword and make money.
As the series goes on we are introduced to several new characters, like Amanda and Guild master who help her in her adventure.
No game no life
No game no life anime followed the story of two siblings named Sora and Shiro, who are known as the legendary gamer duo "Black". they are teleported to a world where all the conflicts are settled through game.
Both siblings quickly adapt themself to the situation and start rising through their ranks, with the gaming abilities they outsmart everyone and overcome any problem very shortly.
No game no life only has released one season till now and has received good critics from the audience.
log Horizon
Log Horizon is another anime that follow the story of game, 30,000 players are trapped in a game and unable to logout. story follows the veteren player who help other players to navigate and make aware of danger and challenges present in the game ans how to overcome them.
The game manely focus on leadership and politics.
Series has released two seasons till now.
In another world with my smarthphone
In another world with my smartphone anime follow the story of a highschool boy named Touya Mochizuki who was accedently killed by the god but graned a swcond chance in a fantasy world with his smartphone from previous life.
Soon he starts discovering the new world with his smartphone and makes new allies and enemies and now ha wants to retuen to the previous world.
Jobless reincarnation (mushoku tensei)
jobless reincarnation is the story of a man who is suddently transported to the fantsy world while he was returning from the store.
He struggles to servive and find the way back to his orignal world, he also meets various other powerful creatures and spritual beings, band of thieves and group of powerful witches.
As the time passes he faces many difficulties and faces with with all his might, the story also has some darker tone and also teaches us lot of things like not to trust anyone so casually. As he goes deeper in the story he finds the dark reality of polotics and power.