If you are a blogger or a websites owner like Amazon Affiliate or shopify store owner ans you are deciding to exit that business then you might need a platform (a broker) to sell that business to another person. Here are the list of some online brokers that will help you to sell your website.
Best Online Platforms to Sell Your Website
Flippa
Flippa is the leading platform in digital goods like websites, apps, SaaS, Blogs, Adsense, and Amazon. You can quickly sell your business here. The interface of this website is exceptionally clean and you can easily list your website.
Pros:
Best Market to buy and sell online Business.
2. Provides Escow
3. Provides full details of the business that you are buying like past year sales record, website visits, and active user base.
4. Provides details about revenue and profits.
5. Directly interact with the seller and buyer.
6. Listings are verified by the Flipper Expert team.
Cons:
Flipper is a premium platform so it charges a hefty amount to list your business on their platform.
2. It charges a 10% commission on both sides from the buyer and from the seller.
3. Set limitations on your listing means you cannot list the product on the price that you want.
EmpireFlipper
EmpireFlipper is another big name in the field of online business dealing, This platform allows sellers to list their online digital products or service and sell them.
You can buy and sell items like SaaS, Amazon affiliate websites, blogs, Apps, and any online digital product. For buyers, it provides complete financial details about the product or service listed like listing price, expenses, profits growth rate, and risks involved.
Secret Marketing tools that everyone uses here.
They don't charge you to list your business on their platform, they make money by charging commission when a product or service is sold.
Pros:
Sellers' Questions and Answers to clarify your doubts.
Ahref Analytics data
Users base and traffic over past years.
Earning details and expenditure.
Provides valuation tools to check how much your business actually worth.
Cons:
No their party like Flippa to verify listing.
The risk of getting scammed, since the chance of getting scammed online, is everyone, no platform is 100% secure so you have to be prepared for every situation, especially while making big transactions.
Listings are generally at higher prices like $100,000 and above.
BizBuySell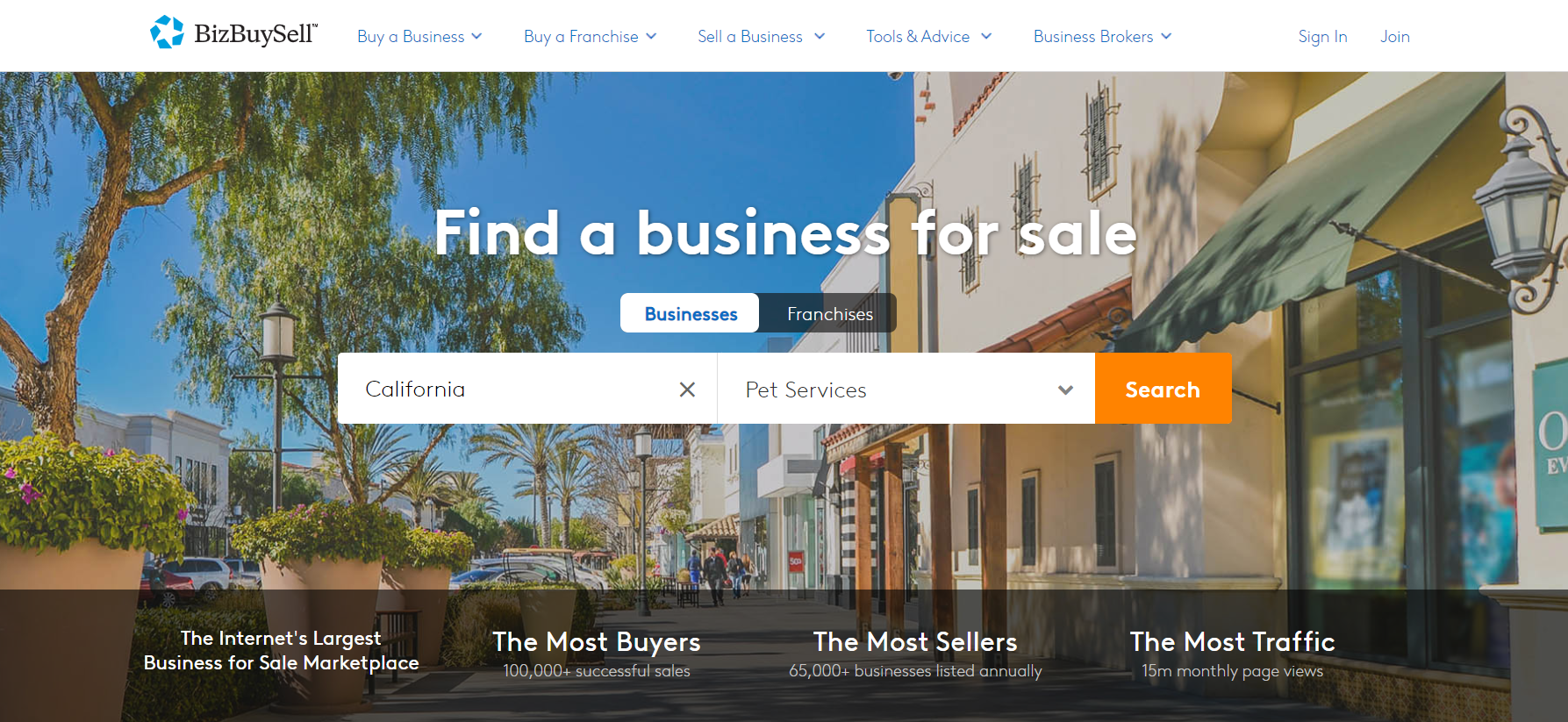 BizBuySell is the biggest broker on the internet to buy and sell online businesses from all industries. It provides dozens of categories like Agriculture, automotive, beauty and personal care, Building and construction, financial services, and online and technology.
The majority of businesses listed here are already established and making money from them.
Pros:
Dozens of Industries to choose from.
Provides a broker to settle your deal.
No commission to pay when your business is sold.
Cons:
Don't provide a listing for one or two months you have to buy a listing term of at least 3 or 6 months.
The listing price is high for a single listing you have to pay around $65/month.
SideProjectors
SideProjectos is another platform that allows users to buy and sell online and digital products and businesses. SideProject is not much professional you will see ads while browsing this website.
This website has the cheapest listing as compared to the above platforms and also charges less commission. You should be careful while buying a listing because it's so cheap it might be fake.
Pros:
Cheap product listings.
Low commission and charges.
Filter according to your choice.
Cons:
High Risk.
No escrow.
No one to verify the listings.
FreeMarket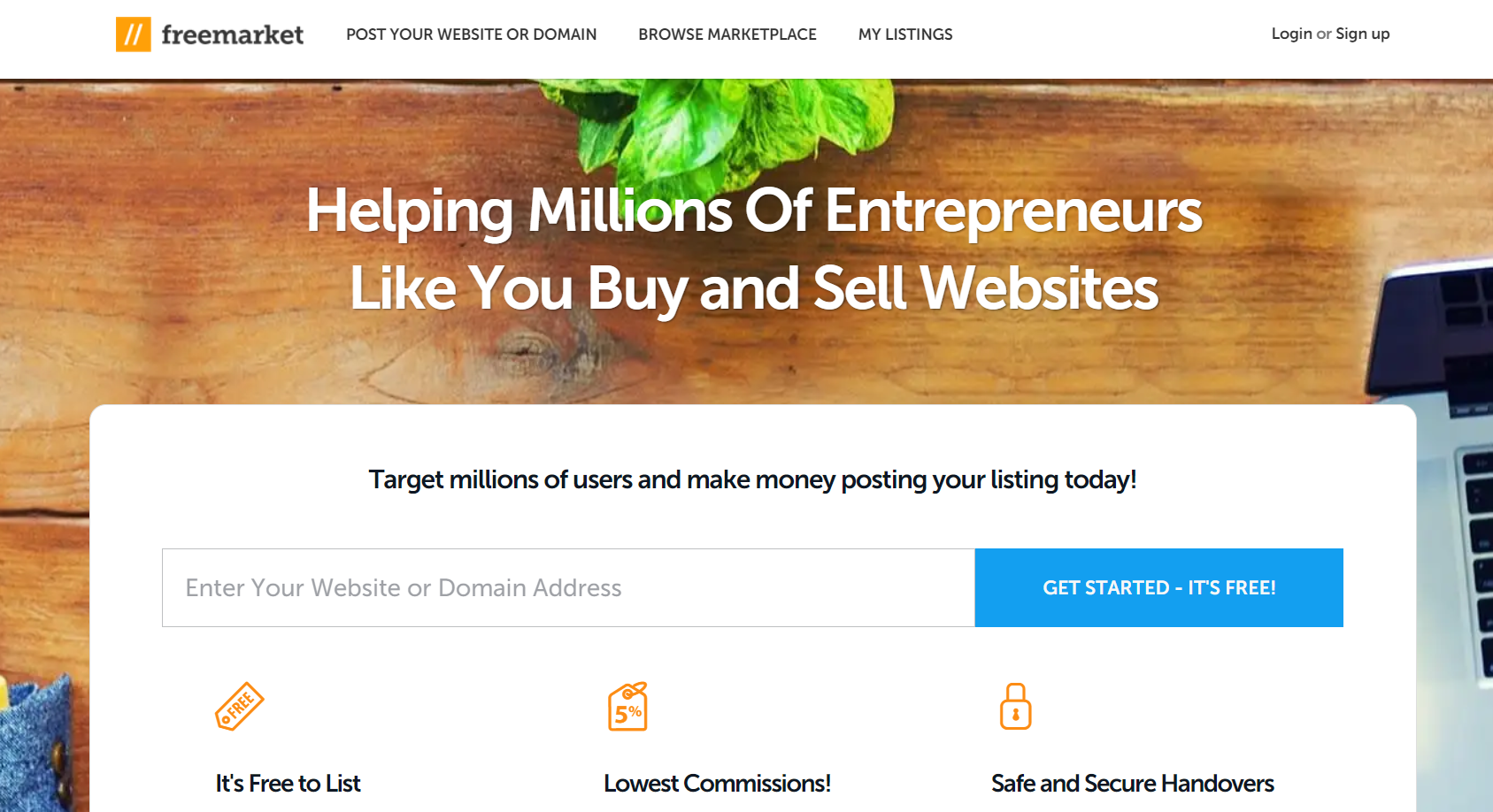 FreeMarket is the website to buy and sell websites and domain names especially. The best part about this website is that it allows free listing, low commission, and is completely safe.
You can browse free market listings without signup and also adjust listing prices from the left side according to your budget. and also choose from the tabs whether you wish to browse domain names or websites.
FE International
FE International is another platform to buy and sell online businesses, FE International has currently four listings Buy a SaaS Business, Buy an E-commerce Business, Buy a Content Business, and Technology Business.
FE International was founded in 2010, its regional office is in San Francisco and London.
As a buyer, you will receive a full review and details of the business that you are going to buy and FE International ensures the transparency of all the transactions and details involved in the deal.
Conclusion
Buying and Selling an online business is a risky task you should always read terms and conditions carefully before making any transactions and check whether that platform is providing escrow services or not. Until you are sure that the listing is legit and have a history on the Internet, older the service or product better the listing.