Finance
How to Make Money by Selling Stock Photos, in 2023 | 5 Best Websites to Sell Stock Photos
How to Make Money by Selling Stock Photos, in 2023 | Best Website to Sell Stock Photos
Photography is a passion of many youths nowadays and most of them are doing it very well but what if I tell you that you can make money by following this passion and also you don't have to perform any heavy task.
just click photos and edit them and upload them on different websites where people are buying digital downloads.
There are many things including photos that you can sell on the Internet like 3D characters and Models, Game characters, and many other similar things, We will talk about these digital downloads in detail today.
What are Stock Photos?
Stock Photos are photos that are licensed by a particular individual person or a company in order to protect them from copyrights and are licensed for specific purposes.
Once someone buys a stock photo he is the owner of the photo and its license he can use the stock photo according to the rules in the license some of the licenses don't allow their photos to be resold while others allow this.
Get Free Stock Photos here.
How to Sell Stock Photos?
Well, there are many ways to sell a stock photo but the easiest way to sell a photo is by listing it on different stock photo selling websites we will talk about all the best sites where you can sell your photos.
Now the next trick is to sell your photo by researching which kind category is most in demand, though there is a lot of competition in stock photography still you can make your way if you target the right people and category.
Here are a few steps you should follow to gain an advantage over other photographers:
Choose a specific Niche (You can Pick of your choice or you can pick the trending niche)
Click High-Quality Photos.
Edit them with good software like Photoshop, So you won't lose your picture quality.
You can watch and follow famous photographers on Youtube.
If you don't know how to click high-quality Photos then you must learn it first.
Don't expect that all your photos would be sold on the first day, it may take sometime like weeks or months so you have to be patent.
You can upload our sample photos on free stock websites to show people your photographs. and if people are interested in your work they might hire you for photography, Unsplash provides this feature for now.
high resolution and matching categories are the main paths you should follow in order to sell your photographs.
Here is the list of youtube channels you can refer to if you want to be a pro at photography.
What are the tools you Need For Photography?
If you are thinking that I'm going to recommend you some high-end cameras and camera lenses then you might be wrong. In today's time, there are many high-end phones which are able to capture high-quality pictures.
Phones like iPhone and Samsung have launched very high-end smartphones that are capable of capturing high-resolution pictures if you have any of them, they are best for beginners.
And if you are capable of affording such cameras you can go for them definitely.
Websites to Sell Stok Photos
You might be thinking about what's next, now you have clicked a beautiful high-resolution photo and edited it now where can I sell them? Well, there are many websites that pay you a good amount from $9-99 for a single photo.
Shutterstock is the best royalty-free stock image site where you can sell Stock Photos, vectors, PNGs, Videos, Music, and many more digital downloads. The methods are really simple.
Go on Shutterstock Website, register there, and start listing your photos which proper titles and tags. registration is completely free. Once your Photos are listed with proper tags, they are now ready for sale.
Dreamstime is the largest community for royalty-free photos and stock photography for professionals.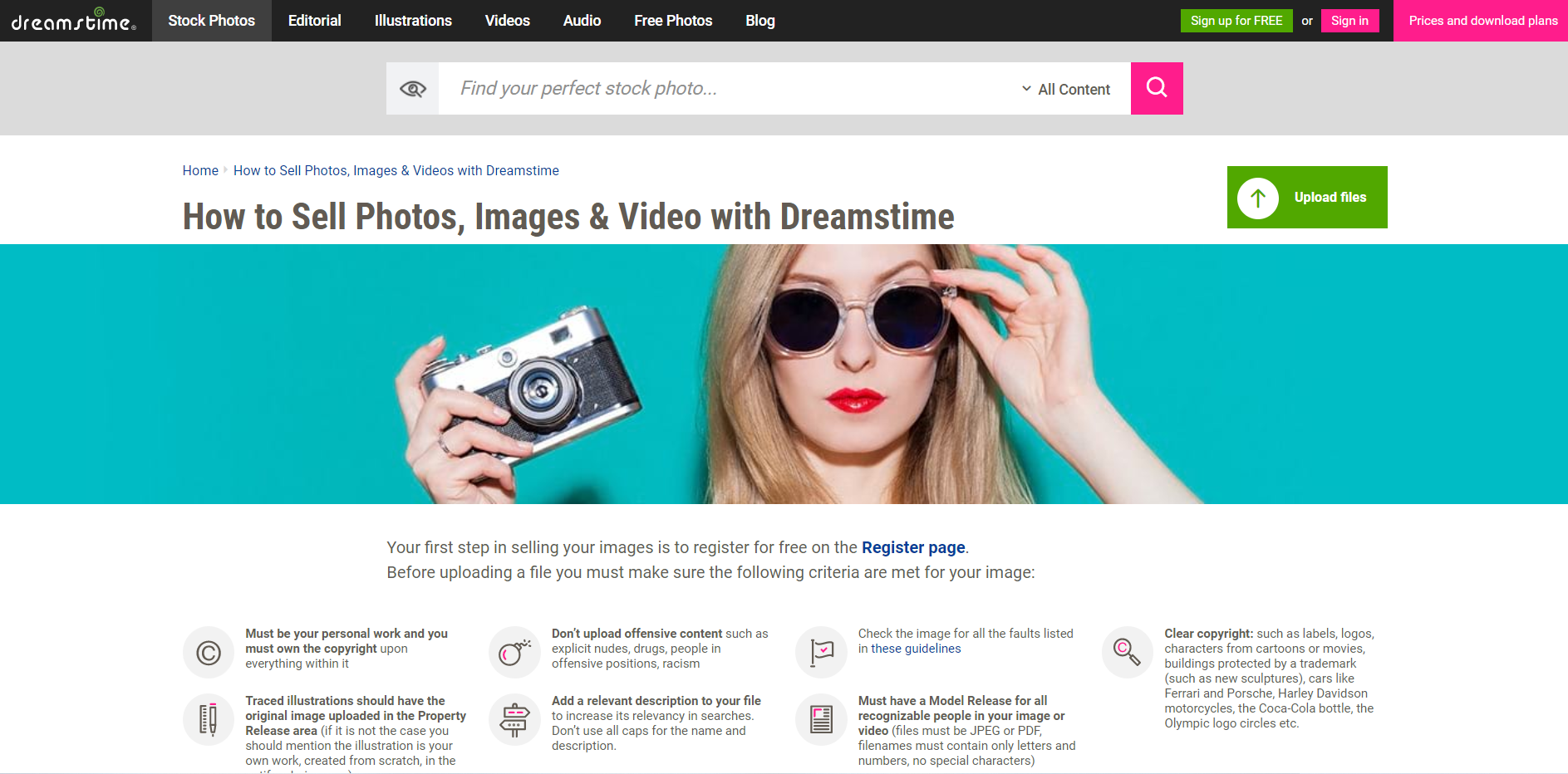 The process of selling photos on Dreamstime is slightly different from the rest of the website, you can read a complete guide on how you can upload photos and their preferred sizes, and you can also see how much their users are making on different products like Stock Photos, Videos, and Music.
Alamy is a British Stock photography agency, You can list your photos and videos and make 50% when they are sold, this is much more commission than the rest of the websites but this website has a lot of loyal customers so you can pick this one if you wanted or you can simply just pass.

Aone of the main advantage of this website is that they also promote your content on different platforms like newspapers, books billboards, TV shows, and websites.
And the best part is if you are a student you earn 100% commission for two years.
500px
500px is another image stock photo-selling website where you can create your profile and start selling photos.
This site provides various analytical tools to track your growth on the platform, it also pushes the new creators forward to get more exposure.
The only issue I have with this site is that you have to follow many rules while uploading the photo, so if you are a beginner and don't have much experience in this field, it would be quite difficult for you to follow all the rules and regulations.
Read their full requirement here.
Photoshelter
Photoshelter is a premium stock photo-selling website where you can start selling your stock photos.
They have over 100+ features developed especially for professional photographers.
Since Photoshelter is a premium platform you have to buy their subscription to start selling your photos, their basic plan starts at $10/month.
Your sales are also charged differently based on your account subscriptions it's between 8-10% per sale.
FAQs
Are Stock Photos Free to Use?
Well sorry to inform you that the Stock photos are not free to use you have to buy them.
Why People Would Buy Stock Photos?
Well, that's an interesting question, people buy stock photos for their websites and other purposes like if you want to use any photo on the Internet you can't just copy someone's photo and paste it into your profile.
You will get a copyright strike so to stay away from such things companies just buy the rights to the photo.
Where Do I get the Ideas for Photos?
Well, you can follow Photographers on Instagram and observe what they are doing and also analyze which category is trending and most profitable, this way you can decide the new ideas for your photos.