Finance
Indian Fantasy Gaming Industry is Booming and Here are the reasons why?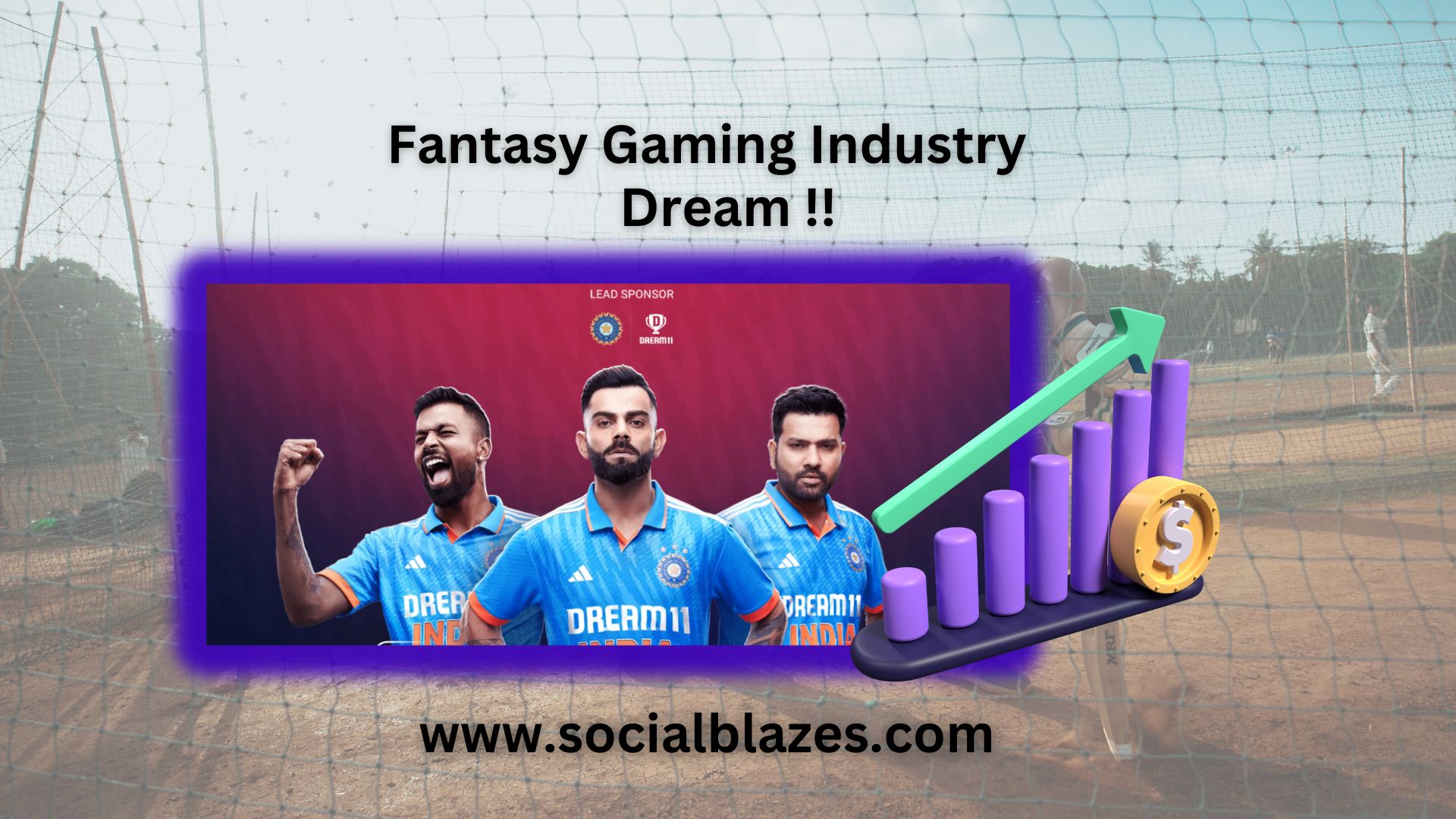 Fantasy Gaming Means Cricket
Table of Contents
Indian Online Fantasy gaming industry has grown @30% CGAR which might not seem very high to you but if we look from a business perspective these numbers are very high and they raise some concerns today we will talk about them in detail.
What is Fantasy Gaming?
Fantasy Gaming is the term used for online gaming that is based on real games like Cricket, Football, Hockey, and all other games that are played in real life.
The model is that participants have to create a team of their own by selecting the real players that are playing in the game and taking part in the contest, when the game starts the players get points according to their performance.
The team having the highest points after the game ends wins from the prize pool and teams up to some ranks win some amounts, this is where it gets different from the betting. They rather call it a game of experience and knowledge.
Fantasy Gaming vs. Betting
Betting is banned in almost all Indian states but people used to do it illegally and that amount was crazy, especially in gaming seasons like IPL and Cricket World Cups.
So, entrepreneurs found a loophole in the system and created this betting model that is almost similar to that the only difference is that in actual betting you lose all your money but in Fantasy gaming there are fewer chances of losing all your money.
The government also didn't raise any objection to this because they were collecting heavy taxes on every transaction like the winner having to pay 30% directly from the winning amount.
If you look closely it's actually the same as betting just lower the risk. if your player performed well you got lucky and won but if your players failed you lost. Same as betting.
Why So popular?
There are many reasons why Fantasy Gaming is so popular in India.
Reason 1 :
Betting is not something new that people suddenly get addicted to people have been doing it already even before these Fantasy platforms came into existence.
Reason 2 :
Low Prices: The cost of participating in a pool varies from Rs. 25-50, which makes it very cheap and affordable to everyone from the upper class to the lower class everyone can now participate in the same pool and the luckiest will win.
It basically removed the entry barrier and allowed everyone to be part of the pool.
Reason 3 :
Heavy Promotions: The third reason is that they are promoting heavily from cricket starts to actors everyone can be seen promoting these fantasy games these days. Anywhere you look you will see them from TV ads to Social Media, they are everywhere.
Reason 4 :
Cricket: Fantasy Gaimg in India means that cricket is like a first love for Indians and they almost follow everything that cricketers do. People usually bet on their favorite players to win these games.
Business Prospective
If we look from a business perspective, this Fantasy gaming business has grown rapidly in the last 5 years and also attracted heavy foreign Investments as talk about the Biggest Fantasy Gaming Company Dream 11 which was launched in 2008 now valued at $8.1 Billion in 2021.
It has raised funds from the biggest investors like Tencent (China), Tiger Global Management, DST Global (England) and others. Till now it has raised a total funding of $1.2 Billion.
Other fantasy sports companies have also done the same MPL has raised funding of $380 Million from foreign Investment.
If we look from the business prospecting, the business is booming in this sector.
Governments reaction
If the business is growing so rapidly then that government is doing, we they are doing the same as they always do, recently government has imposed new taxes on these fantasy gaming companies which has pushed many companies into heavy losses like MPL lost about $192 Million in FY 21-22.
New tax law for fantasy sports
In July, the finance ministry came up with new tax rules for fantasy and online gaming, and this would hit the industry very hard because the already profit margin in this business is very low. If you look at the revenue and profit of dream11 in the year 2022, they have a profit margin of 2-3%.
according to this new tax regime, the players have to pay 28% TDS on any deposits, whether they play or not, if you deposit Rs.100, your wallet will show only Rs.72 direct deduction of Rs 28, again this is a stupid step by finance ministry, they are just trying to suppress the industry.
Despite the efforts of the gaming industry to review the new policy, the government didn't listen to them. and now they have completely implemented the new tax policy.
In a recent interview founder of games24x7 said that because of the new tax regime on the industry, many companies are either going to move out or cut their staff, which will result in layoffs in the industry.
How new policy tax would affect the Online Gaming Industry
Because of the new gaming policy, the industry will face severe consequences, mostly the new startups that are working on the future of online gaming, first of all making a profit in the Industry will be so difficult that only major companies like Dream11 and games24x4 could bear the losses.
Foreign Angel Investors like Tiger Global, BlackRock, and many other investors would start withdrawing their investment to protect their capital from losses, this would make the situation worse for the companies because their valuation would decline significantly.
New startups that are seeking investment won't get any of it because people know that are risking their money in the wrong sector.
Conclusion
Increasing participation in the Fantasy gaming industry indicates that people are looking to get rich quickly but as always, the majority of the people are losing all their money and only one or two people are getting all that.
The government also enjoying heavy taxes on these gaming apps. So, people should invest their money somewhere wisely instead of betting on some Fantasy app.