Tech
What is Binance? Features of Binance | What can you do with Binance in 2023
What is Binance?
Binance is a cryptocurrency exchange platform that allows users to trade various cryptocurrencies such as Bitcoin, Ethereum, and Litecoin. It was founded in 2017 and is headquartered in Malta. Binance is known for its low trading fees and fast transaction processing. In addition to trading, Binance also offers other services such as a cryptocurrency wallet and a platform for initial coin offerings (ICOs).
Features of Binance
Binance has several features that make it a popular choice among cryptocurrency traders. Some of the main features include:
Low trading fees: Binance charges a trading fee of 0.1% per trade, which is lower than the fees charged by many other cryptocurrency exchanges.
High liquidity: Binance has a large trading volume, which means that there are always plenty of buyers and sellers for any given cryptocurrency. This makes it easy for users to buy and sell cryptocurrencies quickly and at a fair price.
Wide range of cryptocurrencies: Binance offers trading for a wide variety of cryptocurrencies, including major coins like Bitcoin, Ethereum, and Litecoin, as well as many lesser-known altcoins.
Advanced trading features: Binance provides advanced trading features such as margin trading and stop loss orders, which allow traders to make more advanced trades and manage their risk.
Multi-language support: Binance is available in multiple languages and supports users all around the world.
Security: Binance has a variety of security measures in place to protect its users' assets, such as two-factor authentication and cold storage for crypto assets.
Binance Coin (BNB): Binance has its own token called Binance Coin (BNB), that can be used to pay the trading fees on the platform. If you use BNB to pay your trading fees, you can receive a discount on the trading fee.
Binance Smart Chain
Binance Smart Chain (BSC) is a blockchain network developed by Binance, which is a high-performance blockchain that is compatible with the Ethereum Virtual Machine (EVM). Binance Smart Chain is designed to support the development and execution of smart contracts and decentralized applications (dApps).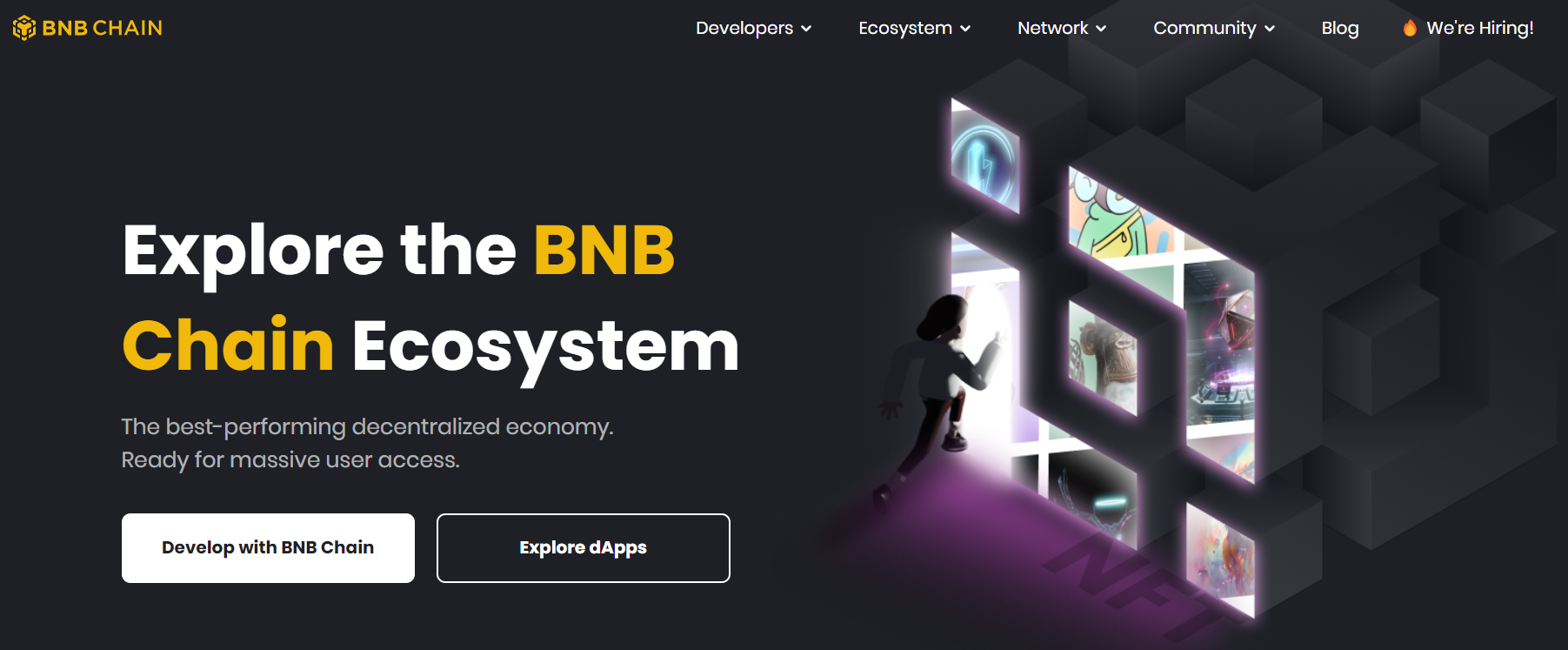 One of the main features of Binance Smart Chain is its high throughput and low latency, which allows for faster and cheaper transactions compared to other blockchain networks. Binance Smart Chain also supports cross-chain communication, allowing it to interact with other blockchain networks such as Ethereum.
Binance Smart Chain also has its own cryptocurrency, Binance Coin (BNB), which is used to pay for transaction fees on the network. The Binance Coin can also be used to participate in decentralized finance (DeFi) applications built on Binance Smart Chain.
The Binance Smart Chain is a public blockchain, which means anyone can use it to build and deploy decentralized applications. Binance also provides developer tools, such as SDKs, APIs and explorer for easy integration and development on the blockchain.
Overall, Binance Smart Chain aims to provide a high-performance, low-cost and secure blockchain network for decentralized applications and smart contract development.
Binance NFT Platform
Binance has launched its own NFT (non-fungible token) platform called Binance NFT. The platform allows users to buy, sell, and trade unique digital assets such as art, collectibles, and more.
Binance NFT allows artists and creators to mint and sell their own NFTs, giving them a new way to monetize their creations. The platform also features a marketplace where users can browse and purchase NFTs from a variety of creators.
Binance NFT uses the Binance Smart Chain (BSC) as its underlying blockchain network, which allows for fast, cheap and secure transactions. The Binance NFT platform also supports minting and trading of NFTs on other blockchain networks, such as Ethereum.
The platform also integrates with Binance's existing ecosystem, such as Binance Coin (BNB) as the native token for the platform, allowing users to use their BNB to purchase and trade NFTs.
In addition, the platform also allows users to borrow and lend NFTs through the platform, giving users more flexibility and liquidity for their NFTs.
Overall, Binance NFT platform aims to provide a user-friendly and accessible platform for buying, selling and trading unique digital assets and NFTs.
Binance Future and Options
Binance offers futures and options for several cryptocurrencies on its Binance Futures and Binance Options platforms.
Futures trading allows users to trade contracts for a cryptocurrency at a set price and date in the future. This allows traders to make a profit or loss based on the price movement of the underlying asset. Binance Futures provides high leverage trading, which means traders can make large trades with a small amount of capital.
Options trading is a type of derivatives trading that gives traders the right, but not the obligation, to buy or sell an underlying asset at a set price on a specific date. Binance options provides users the ability to trade options on several cryptocurrencies.
Both futures and options trading are considered to be advanced forms of trading and they carry a higher level of risk compared to spot trading. It is important to be familiar with the risks and to have a good understanding of the products before trading.
Both Binance Futures and Binance options are built on the WebSocket protocol and can be accessed via the Binance API. The platform also offers a mobile app for trading on-the-go.
Binance Platform review
Binance is generally considered to be a reputable and trustworthy cryptocurrency exchange platform. Users generally have a positive experience using the platform and appreciate its low trading fees, fast transaction processing, and wide range of cryptocurrencies.
The platform has a user-friendly interface and is easy to navigate, even for new users. The platform also provides a variety of trading tools and features such as margin trading, stop loss orders, and advanced charting tools which are useful for experienced traders.
Binance also has a good reputation for its security measures, which include two-factor authentication and cold storage for crypto assets.
The platform's customer support is also generally considered to be responsive and helpful. Users can contact customer support via email, live chat, and social media platforms.
The platform's mobile app is also widely used and well-reviewed, providing users with the ability to trade on the go.
However, as with any cryptocurrency exchange platform, it is important for users to be aware of the risks involved in trading cryptocurrencies. Users should also be aware that there have been instances of hacking and phishing attempts targeting Binance users, so it is important to take necessary precautions to protect your account.
Overall, Binance is considered to be a reliable and reputable cryptocurrency exchange platform that offers a wide range of features and tools for both novice and advanced traders.