Top 5 Websites to Buy Instagram Accounts
Are you looking to buy a new Instagram account for your digital marketing agency or any other purpose, Today in this guide we will show you how you can safely buy a new Instagram account with high engagement and without getting scammed.
Why do People Buy an Instagram Account?
There can be various reasons to buy an Instagram account someone is going to start a digital marketing agency and he needs to find some audience to advertise.
The second reason is if someone is starting a business and wants to build his branding then this would be a perfect plan to reach the right audience of course various factors affect this, and we will talk about them.
How to Buy an Instagram Account
There are various things you need to consider if you are going to buy an Instagram account, First of all, why are you buying an Instagram account?
If you are buying an Insta account for your digital marketing agency, there is a wide range of categories to choose from like Travel, Sports, Modelling, Beauty, and many more.
If you are buying an Insta account to grow your brand, you need to find the page in the same niche if you are selling clothes or gadgets you need to find the fashion and gadgets theme page.
By doing so you won't lose your target audience and your brand can grow exponentially. You can start posting about your product without making any changes.
Finally, you need to check the engagement and account reach for that particular account to justify the followers because many pages buy the bot followers and sell the account for profits.
If any account has low engagement rates and doesn't justify doesn't justify the number of followers that account has, you can consider it as a red flag and must not buy that account, you would be wasting your money.
Top 5 Websites to Buy Instagram accounts
Many websites provide you services to buy an Instagram account but here are 5 that provide you with escrow.
Instasale is one of the best websites to buy an Instagram account safely because they provide escrow service means you will get your money back if you are scammed and they ensure that you get your product or service.
This platform is completely free. The guarantor's commission is charged for successful transactions only.
You can choose from hundreds of theme pages and different categories and choose them according to your budget.
They also provide you the basic details like the number of posts on the account and average likes & comments.
You can chat with the sellers after you sign up.
Fameswap is another platform to trade social media accounts like YouTube, Instagram, and TikTok They have thousands of listings from hundreds of different niches.
The two best thing about this website is it provides the statistics like number of posts, average likes, and average comments on the account and accepts escrow to avoid scams.
You can browse the listing directly to know the exact prices you need to sign up. You can text the sellers if you are interested in any of the listings and ask for the engagement rates.
Sebuda is another platform where you can buy and sell Instagram accounts, The best part about this platform is that you can filter the listings according to country, number of followers, category, and man/woman engagement rate.
They already have updated the engagement rates for their accounts you can browse them directly. and contact the seller if you are interested. This website also shows the post directly on their websites so you can verify the engagement data.
This website is also cheaper than the rest of the sites.
Socialtradia
Social Tradia is another Instagram trading platform, this platform has thousands of accounts from hundreds of different niches to choose from.
This platform is more premium than the one listed above means they are more expensive than the other so you can avoid if you don't have enough budget.
You can also make an offer for a particular account that you are interested in and see if they agree to you.
Toofame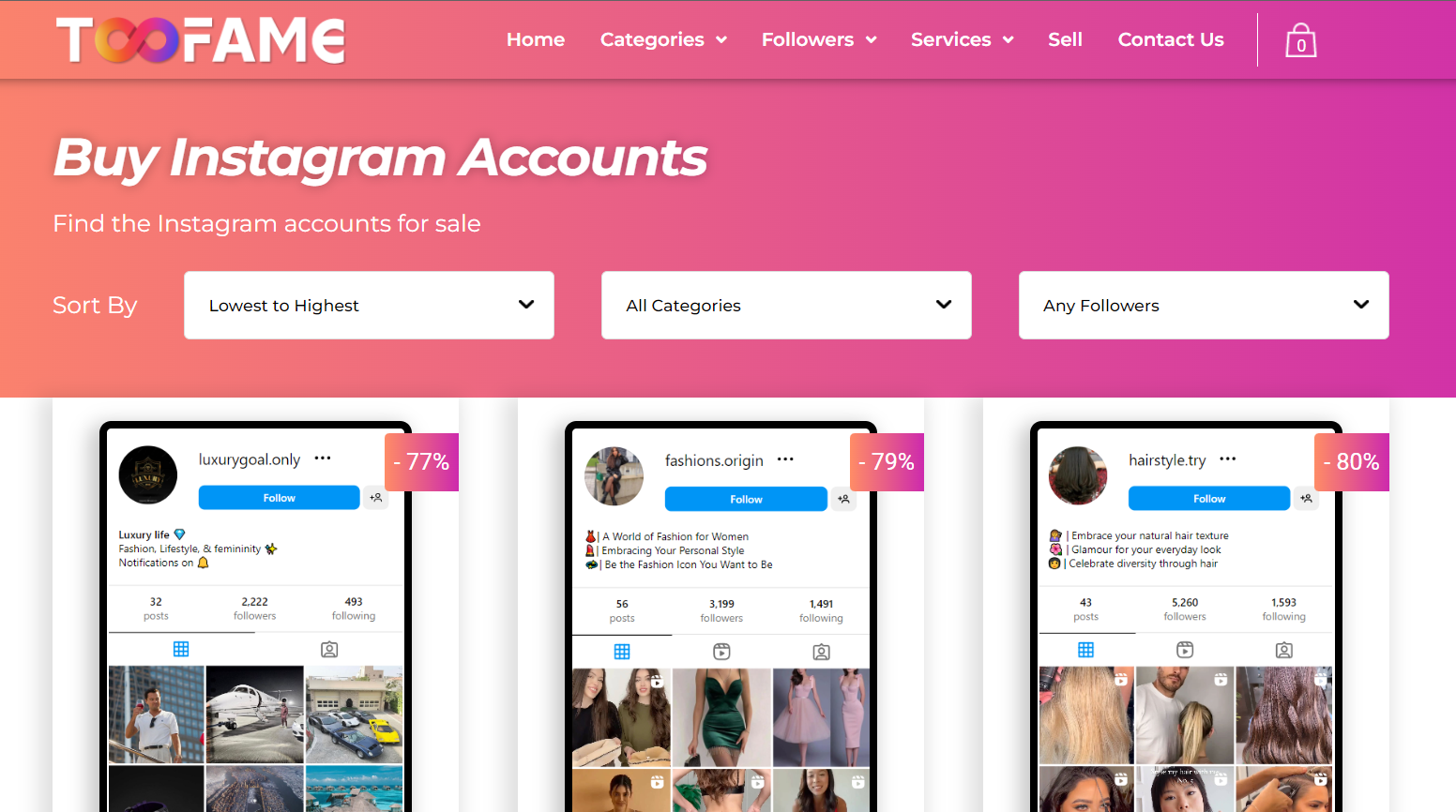 Toofame is an amazing website to shop for Instagram accounts, they have thousands of listings and you can filer them according to the prices and number of followers.
The listing is not cheap but you are also getting the quality product. The website also provides you 7 day money-back guarantee on a purchase.
You can verify the account before buying, they provide you a direct link to the page.
Conclusion
If you going to buy an Instagram account make sure to verify all the details like engagement rate and number of real followers, and always buy from a verified seller and use escrow to avoid getting scammed.